Chocolate and you, it's a great love story! So it has its place in one of the happiest days of your life. To get out of the traditional sugared almonds, why not offer some pure cocoa butter wedding chocolates, in carefully personalized packaging?
Loose, in shelves or individually wrapped… The opportunity is given to you to surprise and delight your guests with a gourmet attention that they will not soon forget!
Summary
1 Rather dragees or chocolates?
2
3 How to choose my wedding chocolates?
4 What packaging for my wedding chocolates?

4.1 A square box for my Neapolitans
4.2 A box for my gourmet bites
4.3 A tablet for my candy bar
4.4
4.5 Bellows packaging for my traditional sugared almonds

5
6 What packaging for my wedding anniversary chocolates?

6.1 A pyramid for my chocolate almonds
6.2 A box to thank your guests

7
8 Do you want tailor-made packaging?
It is said that during Antiquity, the Roman confectioner Julius Dragatus accidentally dropped an almond in honey. A small mistake that will give birth to a whole new treat that we used to traditionally serve at the end of a meal.
Supposed to improve digestion and counter sterility, the dragee quickly becomes synonymous with wishes of happiness for all major events. Baptism, marriage, communion ... And the tradition has passed through the ages until today, where the dragee is still available in a multitude of shapes and colors.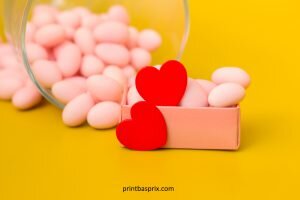 Yes, but the chocolate has not said its last word. Quite the contrary!
Symbol of gluttony par excellence , it is now found in the form of a small gift with which your guests will leave. Despite a shorter history than that of the dragee in France, since it was during the 17th century that chocolate made its appearance at the French court, here it is offered to us sometimes dark, with milk, white or filled with almonds according to tastes and desires.
Chocolate and you, it's a great love story
Offered in personalized packaging, decorated in the colors of your theme, wedding chocolate is a great way to extend your decoration and have a resolutely modern touch that will appeal to as many people as possible. Where sugared almonds, like the traditional wedding cake, no longer always find favor with the youngest!
Chocolate is ruin, happiness, pleasure, love, ecstasy, fantasy ...
Elaine Sherman.
You are convinced. Between sugared almonds and chocolates, it is the chocolate that finally stood out for your wedding. And now ?
Well, you just have to make your choice. And you who thought that the hard part was over!
You will rely primarily on your tastes of course, trying to please most of your guests. Do you swear by dark chocolate? Perhaps this is not everyone's taste and he would rather bet on milk so as not to take risks . Or go straight to a small assortment in which everyone will pick their favorite bite.
Also consider the forage. With or without alcohol, with or without coffee… We also love chocolate coated almonds, which create a great alternative, between classic dragees and chocolate. The Avolas, originating in Italy, being the most intense in taste while the Provence, less expensive, offers a very delicate flavor.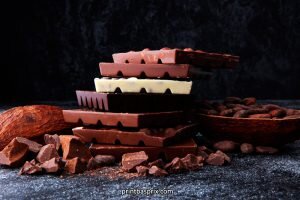 How to choose my wedding chocolates
Is the type of wedding chocolate you want starting to take shape in your head? Maybe it's time to think about how you can make it a little more original.
We focus on innovative shapes, on engravings on the chocolate, and on packaging that will be like extensions of the decoration of your evening . Put your initials, wedding date or photos on it to give life to a lovely memory that your guests will keep for a long time !
If glass tubes or small baskets are on the rise today, we also like the apparent simplicity of a cardboard box that you can adjust at will according to your desires.
As for the quantity, generally count 5 to 10 chocolates per person. Knowing that the dragees, according to tradition, were originally offered by 5 to represent fertility, prosperity, health, happiness and longevity. Note that you will fill about thirty boxes with 1 kg of chocolate.
Calculate well not to face a shortage of stock the day before your ceremony!
Remembrance is the most precious gift.
Angelina Chevalier.
A square box for my Neapolitans
Neapolitans, you know, are those little wrapped chocolates that you enjoy with coffee. No more tulle bag seen and reviewed, we now prefer them either simply held by a small string, or stored in a pretty square box !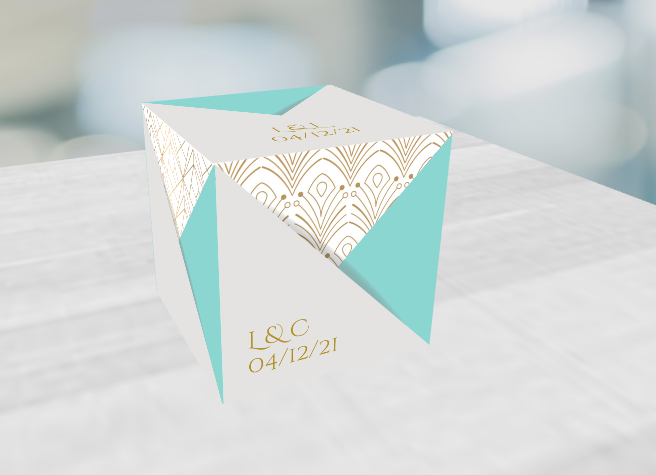 A box for your Neapolitans.
Take advantage of its large personalization surfaces to write your initials or a small message. There is a good chance that this box will stay fine after being emptied of its contents!
Placed directly on the plate or neatly stacked on the souvenir table ... A true indestructible ballotin ! Especially since its original shape does not interfere with your possibilities of customization.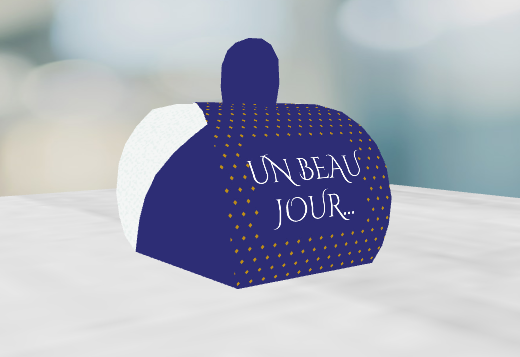 A box for your assortments.
The most unexpected patterns and designs are yours ! Our team remains at your disposal for all your creation requests.
A tablet for my candy bar
The candy bar or candy bar, this is a trend that has lasted for many years and has not stopped seducing!
Imagine. You enter a large room crossed by lights and decorations. Your eyes suddenly fall on a beautiful, well decorated table, loaded with all kinds of candy boxes filled with delicacies . In no time at all, all guests are drawn to it.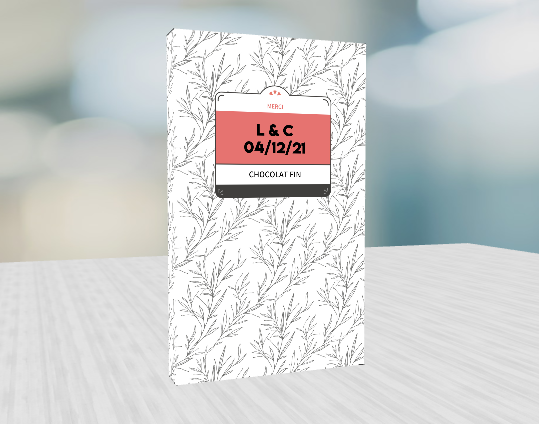 A shelf for your candy bar.
And among the marshmallows and syrup bottles… You see an elegant display that almost disappears under a mound of personalized chocolate bars .
Does it make you dream? All that remains is to find the ideal chocolate bar for your wedding and add your little touch!
A bellows packaging for my traditional sugared almonds
Traditional perhaps, but the dragees are modernizing by swapping their almonds for chocolate or their oval shape for others much more original.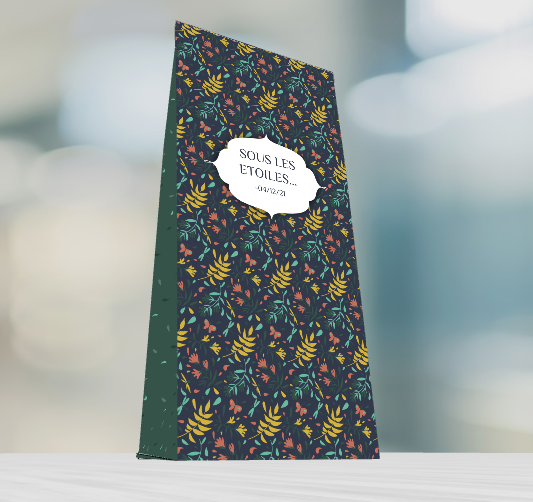 A bellows packaging for my sugared almonds.
Wrap everything in a bellows packaging in the colors of your union and let your imagination run wild!
What packaging for my wedding anniversary chocolates?
Wedding of cotton, wheat, tin, gold ... A few years and here it is again. Everything is a pretext to party!
Offering a little chocolate on your wedding anniversary will once again be an opportunity to thank your loved ones for their presence by your side. Bet on packaging that is more sober but just as elegant or on the contrary… Plan a ceremony in a smaller group which will be an opportunity to dare all the follies!
A pyramid for my chocolate almonds
A pyramid or other for that matter, as long as it looks like you! We like curved shapes, rounded or pointed boxes in which your loose wedding chocolate will find its place without difficulty.
MonPackaging offers you a wide range of models of all kinds. To personalize from A to Z according to your desires!
A box to thank your guests
More modern than the ballotin, the box is always the promise of a nice, simple and elegant gift. We love it for its sober shapes which facilitate personalization as much as for its large dimensions which allow to hide a multitude of delicacies.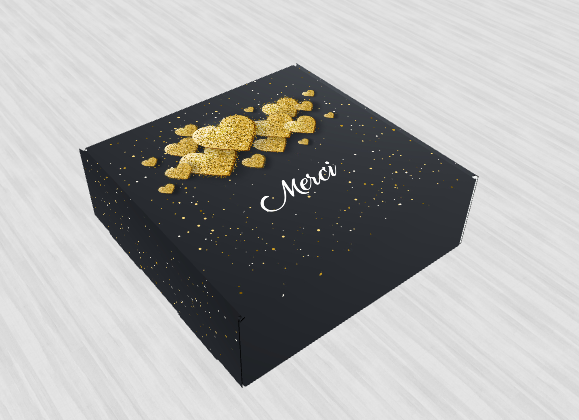 A box to thank your guests.
A real wonder box for your wedding anniversary chocolate. And the opportunity to multiply the flavors to please everyone! A little handwritten note, a pretty tissue paper to protect it all and voila.
Fancy tailor-made packaging?
A gilding over here. A drawer packaging over there. A print on the inside of your packaging.
MonPackaging has made event packaging one of its specialties to offer you an exceptional variety of creative combinations. Discover now the extent of our possibilities and get in touch to soon offer your artisanal wedding chocolate the refined setting it deserves!