Teen Mom's Cheyenne Floyd Is Engaged to Zach Davis: See Her Diamond Ring
While celebrating her baby shower, Teen Mom OG's Cheyenne Floyd received a surprise proposal from Zach Davis.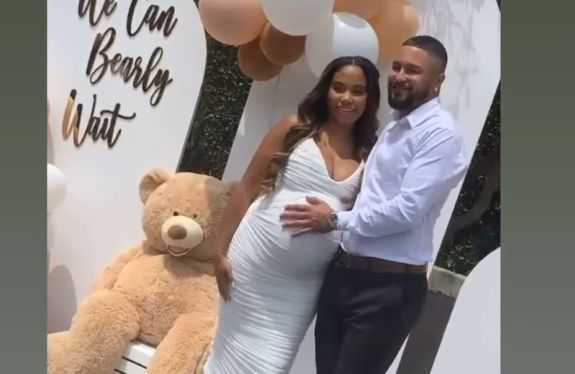 This baby shower wasn't complete without some bling.
On Sunday, April 25, Cheyenne Floyd thought she was going to celebrate the arrival of her first child with Zach Davis during a family-friendly baby shower. But as it turns out, her boyfriend had even bigger plans. According to several attendees who posted on social media, Zach decided to celebrate with a perfect proposal.
"Turned my players card in!" he joked on Instagram Stories when debuting his engagement ring for Cheyenne. "That's a bitcoin."
Cheyenne added, "Speechless... We said Yessss! Today was perfect! I can not put it into words yet but this is a moment I will cherish forever. Thank you @z.terrel I love youuuuuu!"
While details about the proposal appear to be top secret for now, Instagram posts show cameras were rolling suggesting Teen Mom OG may feature the romantic moment in an upcoming episode.
Fans of the MTV series likely won't be surprised about the couple's next big step in their relationship. After all, Cheyenne previously admitted that the topic of marriage has been discussed.
"It's definitely a conversation," the Rage Against Ry founder told E! News back in January. "I just think with COVID and stuff, it puts it on hold. When we do get married, we want to have a big wedding and we can't do that right now of course. We don't want to have any limitations for what we want to do. It's an ongoing conversation but one for the future."
Throughout the most recent season of Teen Mom OG, fans have also had a front-row seat to Cheyenne and Zach's milestones.
From finding out they were expecting to Cheyenne telling her ex Cory Wharton that she was pregnant, cameras captured it all.
And for those wondering what Cheyenne and Cory's daughter Ryder thinks of Zach, all signs point to a young girl who totally approves.
"She liked him from the beginning," Cheyenne explained to E! News. "It's definitely become full circle just because Zach and I dated when I was pregnant with Ryder. Ryder is going to be four this year and now we're expecting a baby. It's definitely an overwhelming feeling sometimes."
Part two of the Teen Mom OG reunion airs Tuesday, April 27 at 8 p.m. on MTV.
While she hasn't even celebrated her first birthday yet, Gigi Hadid's baby girl Khai is already looking like a style star in the making. See the youngster's very fashionable designer outfit here.
Move over, Gigi Hadid: There's a new fashionista in town—and you probably already know her.
Of course, we're talking about the supermodel's very own infant daughter, Khai. While the baby girl is still a few months shy of her first birthday, it already seems she'll fit right in the fashion world, as evidenced by her latest outfit.
On Tuesday, April 20, Gigi commemorated her daughter's 7-month milestone with a snap of the youngster playing with her shoelaces. While Khai's head was cropped out of the photo—the new mom has notably kept her baby's face out of the public eye—the infant's designer outfit stole the spotlight. Khai was sporting a red tracksuit by none other than Versace, a brand close to her supermodel mama. The outfit was complete with a pair of black lace-up booties.
"Can't believe my baby is 7 months this week," Gigi captioned the pictures. Even Donatella Versace herself took notice and weighed in with a comment. "Baby Khai is growing up fast, @gigihadid!!" the fashion maven wrote. "A very Versace baby, just like you."
And, maybe one day, little Khai will strut the Versace runway, too—just like her mom. While there's still plenty of time before that may come to fruition, Gigi returned to the runway in March after giving birth in September 2020 by opening and closing Versace's fall-winter 2021 show. "Opening & closing @versace is always an honor and was the best come'back,'" Gigi partly wrote on Instagram at the time. "Mostly just lucky to be healthy, working, and in a safe/tested environment to hug so many I've missed like family this past year. thank you to everyone who made this possible, especially my Italian Taurus queen @donatella_versace always & forever."
Most importantly, she did it all as a first-time mom! For more of Gigi's best mom moments so far, just keep scrolling!